(sorry, en inglés)
DETAILS ON "IMPLEMENTS OF HELL" REVEALED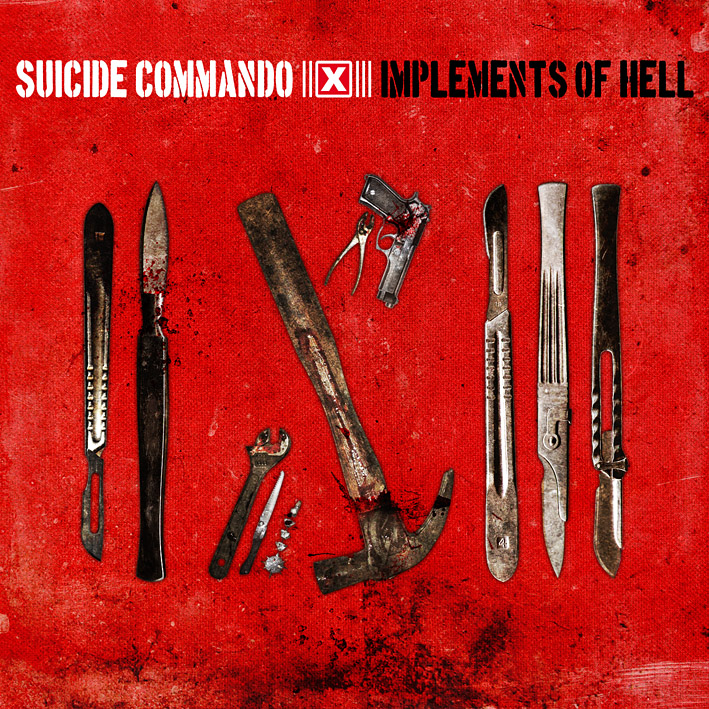 Finally we can reveal some more details upon the upcoming new SUICIDE COMMANDO album. As already announced before the new SUICIDE COMMANDO album is called "implements of hell" (a reference to notorious serial killer Albert Fish) and will be released in Europe through Out Of Line / WWE on January 22nd 2010, and in the US (and rest of the world) through Metropolis on January 26th.
The album will be released in Europe in 3 different versions, in the US in 2 versions.
Implements Of Hell stands as SUICIDE COMMANDO's greatest work thus far. Unrelenting, hook laden, and darker than Hell… this is the way evil electro is supposed to sound.
SUICIDE COMMANDO CHRISTMAS "BEST OF" SHOWS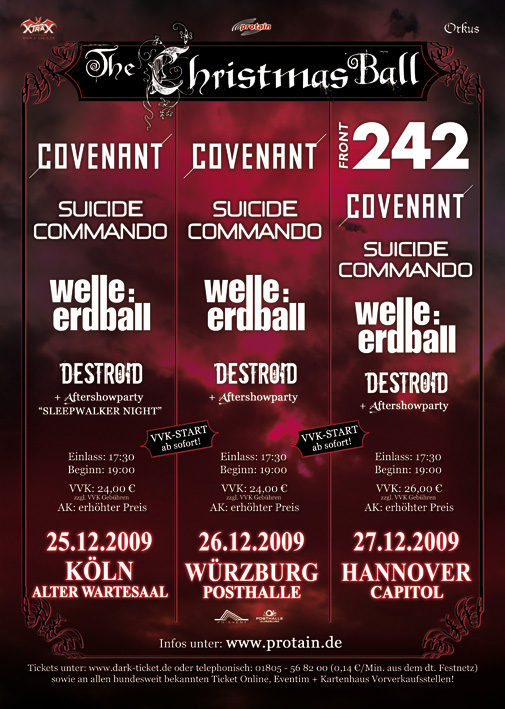 As announced before SUICIDE COMMANDO will be performing live at this years Christmas Ball Festivals on 25th, 26th and 27th of December.
As it's Christmas for everybody, we'll have a very special gift for every visitor in the form of an exclusive SUICIDE COMMANDO "best of" live set, so expect some old classics as well.
Come and check it out in Cologne (25.12), Wurzburg (26.12) and Hannover (27.12) !
See you in hell Santa ! Ho ho ho !
First new live show presenting the new "implements of hell" will be on 20.02.2010 at Slimelight in London (UK), but more details on that will follow soon.
SUICIDE COMMANDO ON "ELECTRONIC SAVIORS" CANCER COMP.
SUICIDE COMMANDO is only one of the many bands supporting and appearing on the "electronic saviors : industrial music to cure cancer" 4CD compilation coming out on Metropolis Records soon.
The compilation is put together by Jim Semonik, vocalist and founder of the US based project Rein[forced], who himself got diagnosed with and treated for cancer few years ago.
The 4CD compilation will feature exclusive material of up to 60 bands including SUICIDE COMMANDO, Assemblage 23, Nachtmahr, 16 Volt, Terrorfakt ... just to name a few.
All proceeds from sales of this unique compilation will go toward cancer research, so please support this great initiative !
Thanks in advance.
SUICIDE COMMANDO LIVE
SUICIDE COMMANDO live dates coming up :
25.12.2009 Alte Wartesaal - Cologne (Germany)
26.12.2009 Posthalle - Wurzburg (Germany)
27.12.2009 Capitol - Hannover (Germany)
20.02.2010 Electrowerkz/Slimelight - London (UK)
More info's at
www.suicidecommando.be

Temas similares
---
Permisos de este foro:
No puedes
responder a temas en este foro.